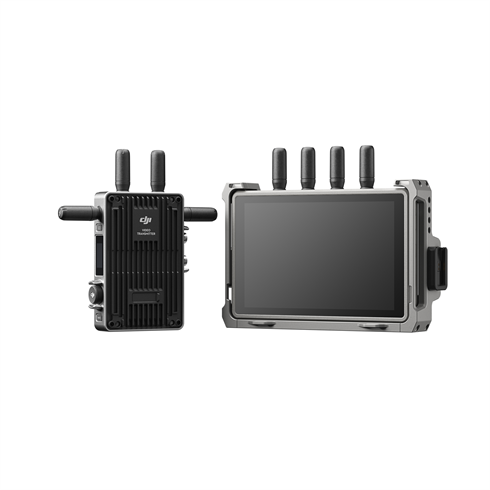 DJI Transmission Combo
Cikkszám: CP.RN.00000209.01
EAN: 6941565928917

DJI Transmission
Vision Beyond Boundaries
DJI Transmission evolves from the established DJI aerial video transmission technology, delivering an integrated solution that combines a video receiver, monitor, controller, and recorder. It is designed for native integration with Ronin-series products and DJI Master Wheels, transforming the industry with a groundbreaking transmission experience that provides vision beyond boundaries.

A New Era
Transmission Performance
Long-Distance HD Live Feed
DJI Transmission incorporates O3 Pro video transmission technology, which offers an incredible 6km/20,000ft [1] on-ground transmission distance. It also supports transmission at 1080p/60fps with a max bitrate of 50Mbps as well as live audio monitoring at 16-bit 48 kHz, providing crews on large sets with an excellent remote visual and audio monitoring experience.
End-to-End Ultra-Low Latency
The video transmitter and receiver use the same chip solution as Ronin 4D, with every link explicitly optimized to provide end-to-end ultra-low transmission latency when pairing with cinema cameras like ALEXA Mini LF.
Seamless Auto Frequency Hopping
O3 Pro adds DFS bands on top of the traditional 2.4 GHz and 5.8 GHz frequency bands, offering up to 23 channel options that provide professional crews with more compliant and interference-free transmission channels. In addition, DJI Transmission supports triple-band automatic frequency hopping, which automatically scans the electromagnetic environment for the best wireless channel.
With a built-in frequency sweeper, users can even manually select the optimal channel to avoid interference between devices.
By mounting high-gain antennas, [2] transmission capability is further boosted.
One Transmitter with Multiple Receivers
The High-Bright Remote Monitor supports one transmitter with multiple receivers for video and audio feeds in two transmission modes. In Control mode, DJI Transmission delivers optimal transmission performance. Monitoring can be done from two receivers at the same time, while Ronin 2, RS 3 Pro, and camera focus can all be controlled remotely.
For crews operating with multiple members and teams, such as lighting, art department, and props, Broadcast mode can be enabled on top of Control mode to allow an unlimited number of receivers (transmission performance differs from Control mode). This brings shooting efficiency and awareness to an entirely new level.

Encrypted Transmission
DJI Transmission supports secure pairing and AES 256-bit encryption to protect against unauthorized access to your information. Together with DJI's self-developed chip and transmission protocol, DJI Transmission is able to ensure the highest level of security for your footage.

Enhance Your Vision
Monitoring Experience
Integrated Design
Compared with conventional solutions, DJI Transmission integrates a high-bright monitor with a built-in receiver, providing optimum portability and efficient setup to help you get started fast in any setting.
The remote monitor comes with a built-in image processing chip that is the same as the one used on Ronin 4D. This allows it to offer many features in addition to monitoring for integrated and efficient receiving, monitoring, control, and recording.
Wide-Gamut Touchscreen
The High-Bright Remote Monitor is equipped with a 7-inch wide-gamut touchscreen with a brightness of up to 1,500 nits. It comes standard with a tempered glass screen protector and professional monitor hood to deliver rich, true-to-life colors, even in strong lighting conditions. With a 1920×1200 resolution, the screen displays a non-intrusive interface (OSD), with visible details like shooting parameters to ensure easily accessible information and seamless monitoring.
Supportive Tools
The remote monitor comes with supportive tools like safe zone, frame guide, zebra stripes, false color, peaking, and waveform for precise composition, exposure, and focusing.
Independent Recording and Playback
The remote monitor also features a microSD card slot and allows for recording and playback of a 1080p/60fps H.264 live feed, as well as simultaneous access to video timecodes, [3] making it easy to edit proxies right on set. When several remote monitors are used in conjunction, each monitor can even record or playback footage independently without interfering with other monitors.

Works with the DJI Ecosystem
Expansive Control Options
Built-In Motion Controller
The High-Bright Remote Monitor has a built-in gyroscopic sensor that enables it to act as a standalone motion controller for Ronin 2 or RS 3 Pro without the need for additional accessories. This allows users to achieve more complex camera movements from a moving vehicle or with a jib.
Compatible with Ronin 4D Hand Grips
The High-Bright Remote Monitor comes with an expansion-protective frame. When using with Ronin 4D Hand Grips, [2] the joystick can control the Ronin 2 or RS 3 Pro gimbal, and the focus wheel can control focusing and the ad